KVA12.1
Turning cold tumors hot
KVA12.1 is a potential best-in-class VISTA blocking immunotherapy.  It is a fully human engineered IgG1 monoclonal antibody that was designed to bind to VISTA through a unique epitope.  KVA12.1 drives strong antitumor immune cell activation:
Increases monocyte differentiation and activation
Increases HLA-dependent T cell activation
Reduces MDSC-mediated T cell suppression
In preclinical models, KVA12.1 demonstrates strong single agent efficacy in cold tumors and complementary efficacy when dosed in combination with other checkpoint inhibitors (CPI's).  It is well-tolerated with no change IL6 and TNFα levels responsible for cytokine release syndrome (CRS) in primate toxicology studies.  KVA12.1 is being developed as an intravenous infusion and is in preclinical development.   Kineta plans to initiate Phase 1 clinical studies in mid-2022.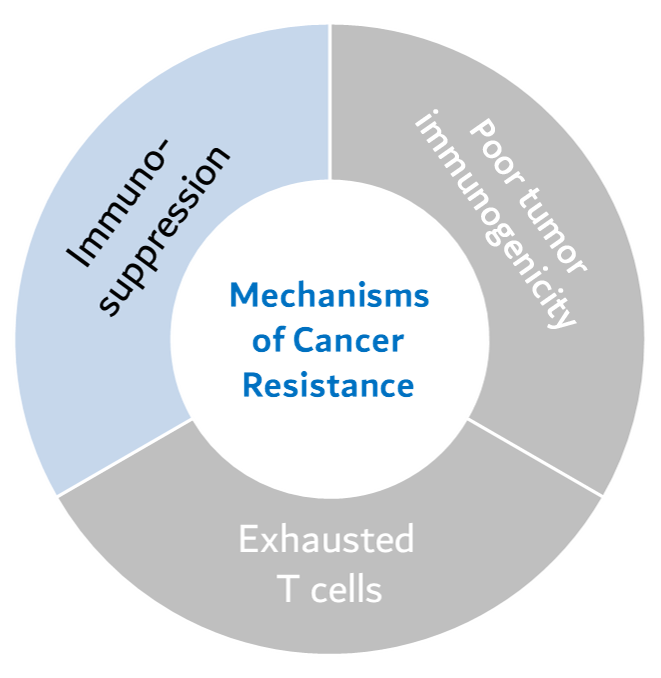 VISTA (V-domain Ig suppressor of T cell activation) is a key driver of immunosuppression in the tumor microenvironment resulting in blockade and down-regulation of the immune response which are the hallmarks of a "cold tumor".  VISTA is a negative immune checkpoint that suppresses T cell function in a variety of solid and liquid (blood) tumors.  High VISTA expression correlates with poor survival in cancer patients and has been associated with a lack of response to other checkpoint inhibitors (CPI).
Blocking VISTA drives an efficient polyfunctional immune response to turn cold tumors hot.  VISTA is a novel immuno-oncology target due to its unique expression and activity. First, high VISTA expression on myeloid cells (monocytes and macrophages) is consistent across tumor types, making it a relevant target across multiple types of cancer.  Re-programmed monocytes can drive tumor inflammation.  Releasing suppression of myeloid cells by targeting VISTA can provide single agent anti-tumor efficacy and also improve efficacy of T cell focused therapies like anti-PD(L)1 and anti-CTLA4.
Second, blocking VISTA induces activation of dendritic cells and ultimately proliferation and infiltration of T cells into the tumor.  The combination of myeloid and T cell responses can reverse immunosuppression and drive anti-tumor activity.  While many immuno-oncology targets address either T cell or myeloid functions, VISTA has a clear advantage in regulating both.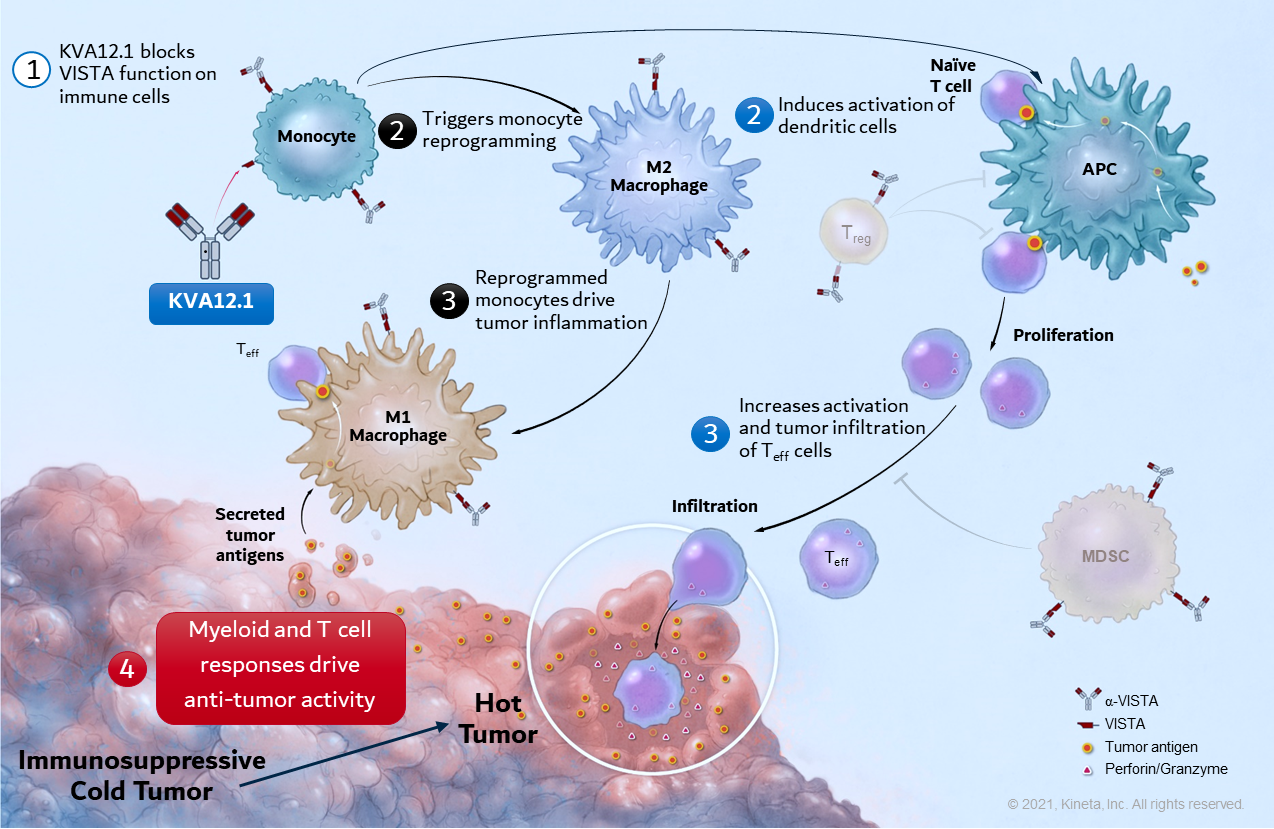 An estimated 19.3 M new cases of cancer were diagnosed with over 10 M deaths in 2020 worldwide.  Cancer is now the second leading cause of death in the United States, second only to heart disease, with over 600,000 deaths in 2020.  In 2021, roughly 1.9 M people will be diagnosed with cancer in the United States.  Breast, lung, and colorectal cancers account for 50% of all new diagnoses in women while prostate, lung, and colorectal cancers account for 46% new diagnoses in men.1  The global market for immuno-oncology therapies totaled $30 B in 2020 and is forecast to grow to $95 B by 2026.2
KVA12.1 may be an effective immunotherapy for many types of cancer patients including NSCLC (lung), colorectal, renal cell carcinoma, head and neck, and ovarian.  These initial target indications represent ~450,000 patients in the US annually and a significant medical need with a large worldwide commercial opportunity for KVA12.1.3
Kineta VISTA Poster Presentation at Tumor Myeloid-Directed Therapies Summit 2022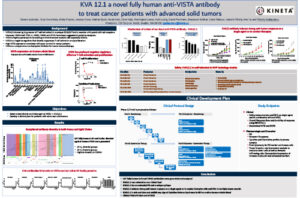 Shaarwari Sridhar, Scientist at Kineta; Tumor Myeloid-Directed Therapies Summit 2022; KVA 12.1 a novel fully human anti-VISTA antibody to treat cancer patients with advanced solid tumors; June 14, 2022
Kineta VISTA Poster Presentation at SITC 2021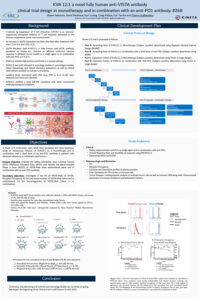 Thierry Guillaudeux, PhD, Vice President Immuno-oncology at Kineta;  Society for Immunotherapy of Cancer (SITC) 36th Anniversary Annual Meeting;  KVA 12.1 a novel fully human anti-VISTA antibody clinical trial design in monotherapy and in combination with an anti-PD1 antibody;  November 13, 2021
Kineta VISTA Poster Presentation at AACR 2021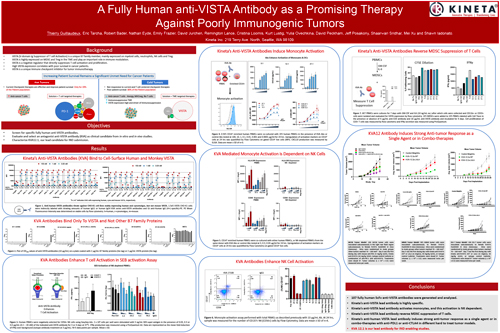 Thierry Guillaudeux, PhD, Vice President Immuno-oncology at Kineta;  American Association for Cancer Research (AACR) Annual Meeting 2021;  A fully human anti-vista antibody as a promising therapy against poorly immunogenic tumors;  April 2021
Kineta VISTA Poster Presentation at ESMO Virtual Congress 2020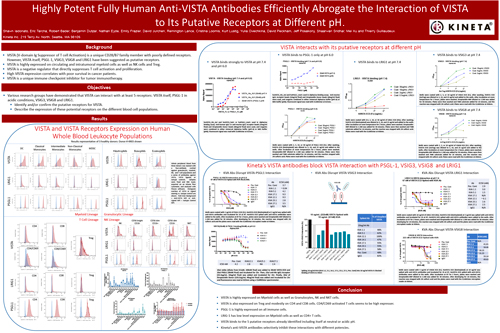 Thierry Guillaudeux, PhD, Vice President Immuno-oncology at Kineta;  European Society for Medical Oncology (ESMO) Virtual Congress 2020; Highly Potent Fully Human Anti-VISTA Antibodies Efficiently Abrogate the Interaction of VISTA to its Different Putative Receptors at Different pH;  December 9, 2020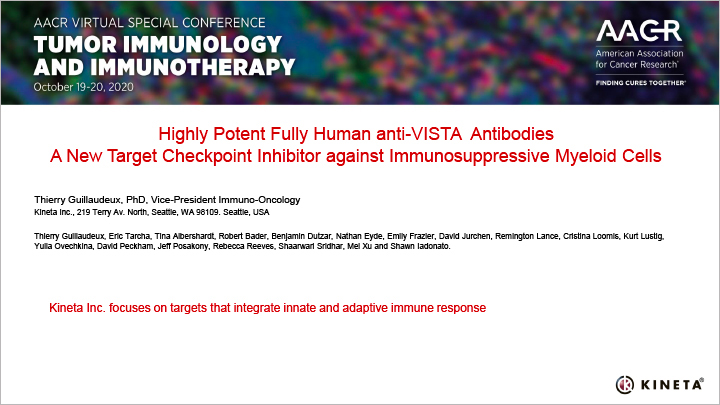 AACR Virtual Special Conference on Tumor Immunology and Immunotherapy Presentation 2020
Thierry Guillaudeux, PhD, Vice President Immuno-oncology at Kineta;  AACR Virtual Special Conference on Tumor Immunology and Immunotherapy; Highly Potent Fully Human anti-VISTA Antibodies A New Target Checkpoint Inhibitor against Immunosuppressive Myeloid Cells;  October 19, 2020
Society for Immunotherapy of Cancer (SITC) Poster 2020
Thierry Guillaudeux, PhD, Vice President Immuno-oncology at Kineta;  Society for Immunotherapy of Cancer (SITC) 35th Anniversary Annual Meeting;  Highly Potent Fully Human anti-VISTA Antibodies: A New Target Checkpoint Inhibitor against Immunosuppressive Myeloid Cells poster; November 12, 2020

References:
1. Rebecca L. Siegel et al.; Cancer statistics, 2020; ACS Journals; First published: 08 January 2020 https://doi.org/10.3322/caac.21660
2. GlobalData; Thematic Research: Immuno-Oncology Report, March 2021
3. GlobalData epidemiology forecasts for NSCLC, PC, CRC, PAC, OC