AddressingImmunosuppression in the TME

Addressing immunosuppression in the TME
KVA12123 (formerly referred to as KVA12.1) is potentially a differentiated VISTA blocking immunotherapy to address the problem of immunosuppression in the tumor microenvironment (TME).
KVA12123 is a fully human engineered IgG1 monoclonal antibody that was designed to bind to VISTA through a unique epitope at physiologic and acidic pH levels. KVA12123 is being developed as an intravenous infusion.
In preclinical models, KVA12123 demonstrates single agent tumor growth inhibition in cold tumors and in combination with other checkpoint inhibitors (CPIs).  It is well-tolerated with no CRS-associated cytokine release (change IL6 and TNFα levels) or neurotoxicity seen in preclinical models.
Kineta opened a Phase 1 clinical study evaluating KVA12123 as a single agent and in combination with (pembrolizumab) in patients with advanced solid tumors.  The objectives of the study are to evaluate the safety, tolerability, pharmacokinetics and anti-tumor responses of KVA12123 alone and in combination with KEYTRUDA® (pembrolizumab).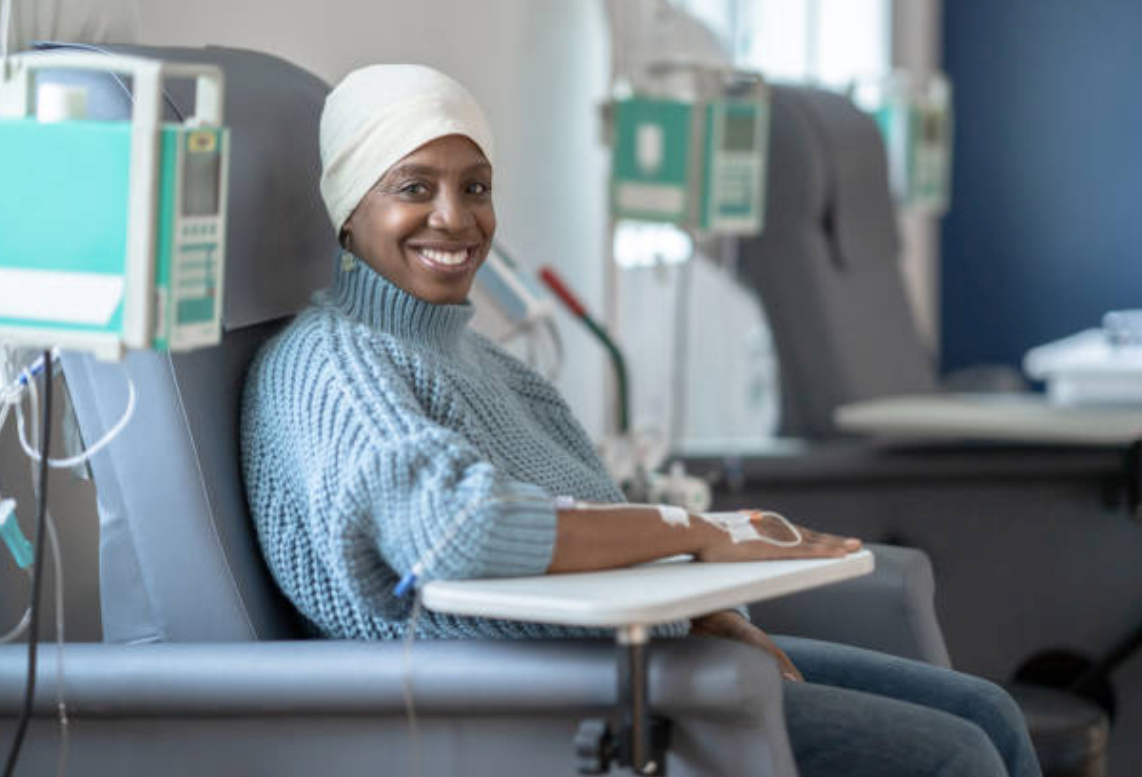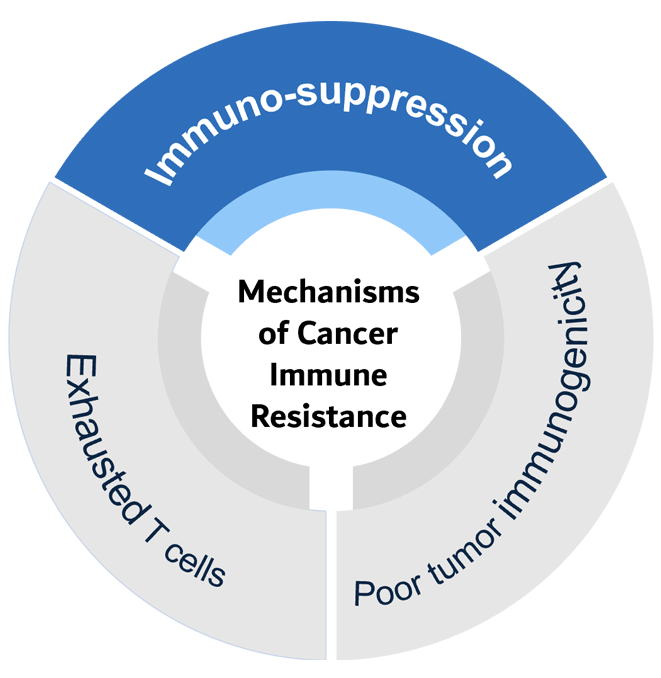 VISTA is a key driver of immunosuppression in the TME resulting in blockade and down-regulation of the immune response which are the hallmarks of a ''cold tumor.''
VISTA is a negative  immune checkpoint that suppresses T cell function in a variety of solid tumors. High VISTA expression in tumor correlates with poor survival in cancer patients and has been associated with a lack of response to other CPIs.
Blocking VISTA drives an efficient polyfunctional immune response to address immunosuppression and turn cold tumors hot. VISTA is a novel immuno-oncology target due to its unique expression and activity. First, high VISTA expression on myeloid cells (monocytes and macrophages) is consistent across tumor types, making it a relevant target across multiple types of cancer. Re-programmed monocytes can drive tumor inflammation. Releasing suppression of myeloid cells by targeting VISTA can provide single agent tumor growth inhibition and also improve efficacy of T cell focused therapies like anti-PD(L)1 and anti-CTLA4.
Second, blocking VISTA induces activation of dendritic cells and ultimately proliferation and infiltration of T cells into the tumor. The combination of myeloid and T cell responses can reverse immunosuppression and drive anti-tumor activity. While many immuno-oncology targets address either T cell or myeloid functions, VISTA has indicated the potential to regulate both.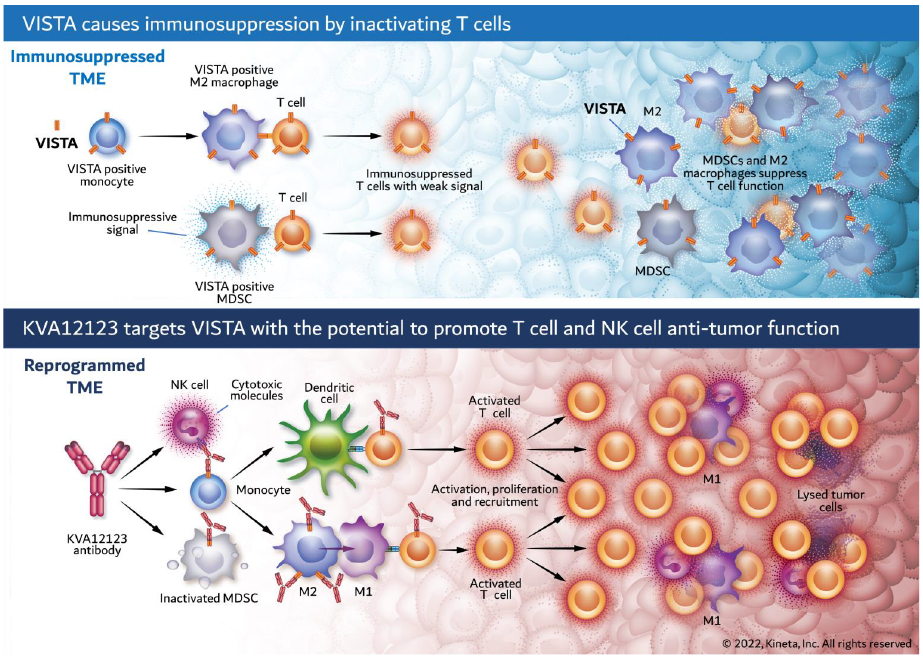 Collaboration with Merck
Kineta entered into a clinical trial collaboration and supply agreement with Merck (known as MSD outside the U.S. and Canada).  Under this collaboration, Kineta will evaluate the safety, tolerability, pharmacokinetics and anti-tumor activity of KVA12123 (formerly KVA12.1), its novel anti-VISTA monoclonal antibody, alone and in combination with KEYTRUDA® (pembrolizumab), Merck's anti-PD-1 therapy, in patients with advanced solid tumors.

An estimated 19.3 M new cases of cancer were diagnosed with over 10 million deaths in 2020 worldwide.
Cancer is now the second leading cause of death in the United States, second only to heart disease, with over 600,000 deaths in 2020.  In 2021, roughly 1.9 million people will be diagnosed with cancer in the United States.  Breast, lung, and colorectal cancers account for 50% of all new diagnoses in women while prostate, lung, and colorectal cancers account for 46% new diagnoses in men.1
Based on the strong clinical rationale and commercial opportunity, Kineta has identified NSCLC, CRC and OC as potential initial indications for KVA12123. The projected new annual patients for each of these initial indications in 2027 totals 980,000 for Non-small cell lung cancer (NSCLC), 1.1 million for colorectal cancer (CRC) and 660,000 for ovarian cancer (OC), based on reports from GlobalData.2
In total, these three initial indications represent an estimated 2.7 million annual new patient opportunity for KVA12123.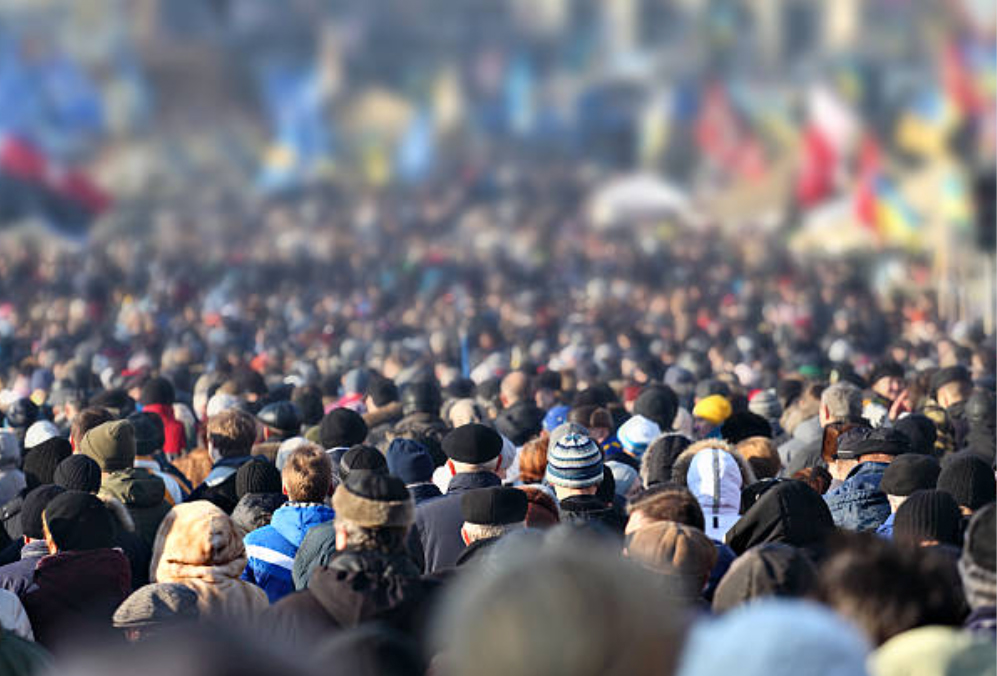 Antibody Engineering & Therapeutics Conference 2022
Thierry Guillaudeux, PhD, Chief Scientific Officer at Kineta; Antibody Engineering and Therapeutics Conference; KVA12123 (formerly referred to as KVA12.1), a VISTA Blocking Immunotherapy; December 7, 2022
KVA12123 (VISTA) Poster Presentation at SITC 2022
Kurt Lustig, Emily Frazier, Neda Kabi, Chen Katz, Nathan Eyde, Jessica Cross, Remington Lance, Yulia Ovechkina, David Peckham, Shaarwari Sridhar, Carla Talbaux, Isabelle Tihista, Mei Xu, Shawn Iadonato and Thierry Guillaudeux
Kineta VISTA Poster Presentation at SITC 2021
Thierry Guillaudeux, PhD, Vice President Immuno-oncology at Kineta;  Society for Immunotherapy of Cancer (SITC) 36th Anniversary Annual Meeting;  KVA 12.1 a novel fully human anti-VISTA antibody clinical trial design in monotherapy and in combination with an anti-PD1 antibody;  November 13, 2021
Kineta VISTA Poster Presentation at AACR 2021
Thierry Guillaudeux, PhD, Vice President Immuno-oncology at Kineta;  American Association for Cancer Research (AACR) Annual Meeting 2021;  A fully human anti-vista antibody as a promising therapy against poorly immunogenic tumors;  April 2021
Kineta VISTA Poster Presentation at ESMO Virtual Congress 2020
Thierry Guillaudeux, PhD, Vice President Immuno-oncology at Kineta;  European Society for Medical Oncology (ESMO) Virtual Congress 2020; Highly Potent Fully Human Anti-VISTA Antibodies Efficiently Abrogate the Interaction of VISTA to its Different Putative Receptors at Different pH;  December 9, 2020
Society for Immunotherapy of Cancer (SITC) Poster 2020
Thierry Guillaudeux, PhD, Vice President Immuno-oncology at Kineta;  Society for Immunotherapy of Cancer (SITC) 35th Anniversary Annual Meeting;  Highly Potent Fully Human anti-VISTA Antibodies: A New Target Checkpoint Inhibitor against Immunosuppressive Myeloid Cells poster; November 12, 2020
References:
1. Rebecca L. Siegel et al.; Cancer statistics, 2020; ACS Journals; First published: 08 January 2020 https://doi.org/10.3322/caac.21660
2. GlobalData epidemiology forecasts for NSCLC, CRC, OC